Sunrise OR Sunset Forest to Beach (2 hr)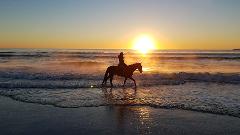 天數: 120 分鐘 (左右)
位置: Byron Bay, NSW
产品编号: P8EQ0C
Follow our wonderfully diverse forest trail before arriving at a spectacular entrance to be able to ride along the beach at sunrise or sunset. Approx 2 hrs. Ages 10+
Notes:
- Our group rides are ages 10+ (contact us for private rides)

- The maximum weight we can take on these rides is 110kg (contact us if above this weight)

- We are unable to offer beach rides outside of the times you see on this calendar due to Marine Park licensing restrictions (No beach rides on Weekends or Public Holidays)
*****Please note that these are mixed-experience group rides, with up to 8 people per ride. You will have an opportunity to trot/canter at parts of this ride, under instruction of our guides. The pace of the ride generally depends on the experience level of the group (i.e. if lots of beginners it will be slower paced etc) *****
PLEASE ALSO NOTE WE ARE ON NEW SOUTH WALES TIME, SO IF YOU'RE COMING FROM QUEENSLAND YOU NEED TO BE AWARE OF THE TIME DIFFERENCE DURING DAYLIGHT SAVING PERIOD.